The latest issue of the Revue Essais & Simulations devotes a special report to hydrogen solutions.
In this new issue, DAM Group appears with an advertorial alongside :
– Philippe BOUCLY, President of France Hydrogène (ex AFHYPAC, French Association for Hydrogen and Fuel Cells)
– Xavier Vigor, Vice President Technologies, Projects & Industrial, H2 energy initiative at Air Liquide
– Olivier Joubert, Director of FRH2 at the CNRS – Centre national de la recherche scientifique (French National Centre for Scientific Research)
– Plastic Omnium
Thank you Olivier Guillon, chief editor for this very interesting report.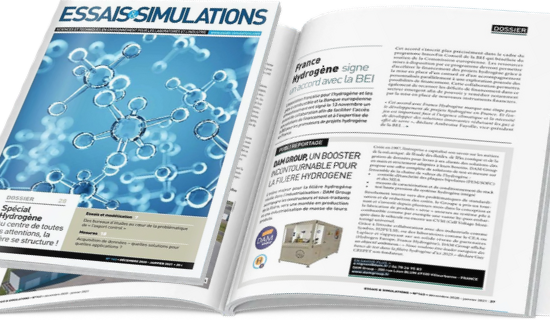 DAM Group, A KEY PLAYER FOR THE HYDROGEN INDUSTRY
The main challenge for the hydrogen sector lies in industrialisation: DAM Group accompanies the manufacturers and subcontractors of the sector, towards a rise in production and mass industrialisation of their products.
Created in 1987, the company has capitalised on its knowledge of mechanics, fluid design, electronics and data management to deliver turnkey solutions strictly adapted to the needs of its customers.
DAM Group offers a complete range of hydrogen test and measurement solutions for the entire hydrogen value chain:
leak testing of bipolar plates (PEM/SOFC) and MEAs
stack characterisation and conditioning
high pressure test of the integrated hydrogen system
Resolutely focused on issues of standardisation and cost reduction, the Group has taken a new direction and for several months now has been investing in the design and manufacture of "series" components ancillary to the fuel cell system, such as a by-pass valve on board the vehicle or a universal CVM (Cell Voltage Monitoring).
Thanks to the close collaboration with industrialists such as Symbio, H2PULSE, or laboratories such as the CEA or Laplace, and relying on a solid network of partners (Hydrogen Europe, France Hydrogène), DAM Group has an ambitious objective: "We want to be the European leader in test benches in the hydrogen sector by 2025," says Guy CREPET, its founder.