DESIGN AND MANUFACTURE OF CUSTOMISED AND TURN-KEY ASSEMBLY MACHINES FOR INDUSTRY
DESIGN AND MANUFACTURE OF CUSTOMISED ASSEMBLY MACHINES FOR INDUSTRY
Like the other technical services, our Mechanical Engineering Office teams have only one watchword: Simplifying the Complex!
The reliability of DAM Group machines is generated by simple solutions developed and refined by the teams' collective intelligence.
The CAD, ERP, PLM and simulation tools are at the service of employees to shape and manufacture.
We are equipped with CAD, 3D SolidWorks, and Creo2.0 software to process all of our clients' digital data.
In terms of mechanics, we master the most demanding assembly techniques such as the bushing fitting with hydraulic position control and measurement of the side during the fitting phase.
Thus we offer complete assembly and manufacturing lines to our customers.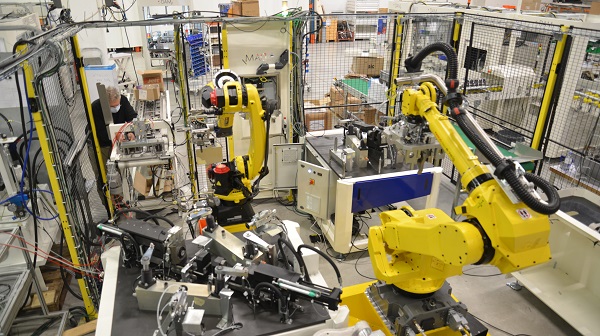 Our experience in the automotive, aeronautical, nuclear, space and defence fields and the collaborative work with our clients allows us to follow and pass all the milestones together until the delivery of the project by offering them innovative, relevant and competitive solutions:
Micromechanics
Robotics
Servo systems
Bench for high-speed rotating and high torque machines.
Thrust measurement balance for plasma engine
Test bench for industrial production
Test bench for scientific research laboratories
Test bench for production in series
Other special and tailor-made requests.