DG 10 030 - Leak test bench for cylinder head, engine block, crankcase (e-motor, transmission, battery, EDU)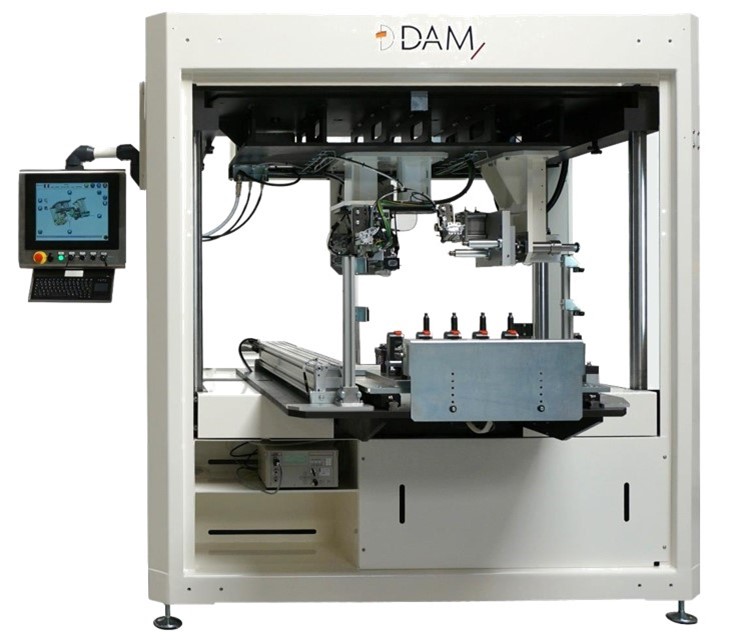 DAM Group has developed and designed a range of standard and innovative leak test machines that are at the heart of Industry 4.0.
The innovation of these leak test machines lies in their adaptability and connectivity features.
Indeed, thanks to the interchangeable and intelligent tooling, manufacturers gain in flexibility and competitiveness.
Flexible and modular, these machines can easily be integrated into a robotized island or a production line.
The products that can be tested on this sealing machine are cylinder heads, engine blocks, casings (e-motors, batteries, EDU, transmission, oil, etc.).
The DG 10 030 is the high capacity machine (press force: 4000 DaN) of the range.
Integrated database for result storage and advanced supervision
Create, save and deploy your test sequence
Manage and track your production
Interchangeable tooling
Open interfaces, 4.0 Industry
Download data sheet
Reduced time to market
Optimized cycle time
Intended for Laboratory and Production
Measure :
Automatic tooling adaptation
Sequence data :  XLM (sequence >100)
Internal database :  >10000 results
Raw data : 50 tdms
Open connection
Data communication :
Industrial protocol : EthernetIP /Modbus/ Ethernet
Web service API accessible by web service
External database MySQL/MsSQL/ Other
Tested product :
Maximum size of the DUT : 600 x 400 x 400 mm
Clamping forces : 3000 DaN
Number of pneumatic circuits (clamp or switch): optional
DUT Loading: Manual / Robot/Cobot/Conveyor
Products tested: cylinder heads, engine blocks, crankcase (e-motors, batteries, EDU, transmission, oil, etc.).
Options :
DAM measurement cell
R&R generation tools
Marking / Rotary plate
Additional measuring cell
Automatically calibrated leakage
DAM Data Management
Pressure test range