DG 40 010 0 - Fuel cell conditioning bench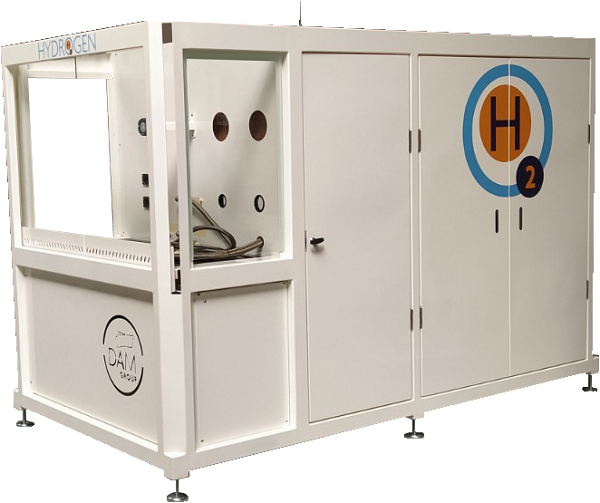 The conditioning of a fuel cell is a crucial step before it is put on a vehicle. Indeed, for the first time the fuel cell will be activated, in other words it will receive hydrogen and oxygen to create its first electrical watts.
The quality of the conditioning will guarantee the quality of the fuel cell's operation and contribute to its longevity over time.
DAM Group's Research and Development teams have developed a fuel cell conditioning bench that enables stack manufacturers to considerably reduce fuel cell conditioning time and therefore production costs.
This bench also allows the characterization of the fuel cell, according to the criteria given by the customer.
Fuel cell conditioning
End of line testing of the fuel cell
Optimized loading and connections/fittings
Active humidification (0-100%)
Stack and gas temperature regulation
Monitoring the voltage of bipolar plates
Cycle time optimization
Packaging of the different ranges of stacks
Optimised form factor
DAM Data Management ready (database storage)
Intuitive interface
Load re-injection
Industry 4.0
– Voltage monitoring of up to 80 optionally extendable plates
– Current/voltage measurement 10kw
– Conductivity measurement
– Hydrometric measurement
-Pressure/flow measurement (gas, water)
– 10kw
– Rejection on the network
– Nitrogen flow
– Flow rate h2
– Humidification anode / cathode 0-100% relative humidity
– Gas temperature management 0 – 90°C
– Delta P anode / cathode
– Anode/cathode pressure management
– Stack temperature rise 0-80° in 20min
– DAM Data Management Ready
– Based on HydroCore
– Flexible and configurable sequence
– Completely optimizable
– Hydrogen presence sensor
– Configurable security sequence
– Suction system (sensor)
– DAM Data Management
– Maintenance
– Annual Calibration
– Remote control
Download data sheet